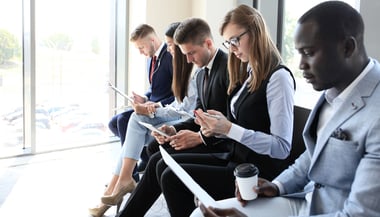 The major holidays are over – and summer's still months away. But in industries like retail and hospitality, it seems the seasonal hiring cycle never stops. Proactive HR and Talent Acquisition teams are already planning for the next spike, building the talent pipeline they need to get through the upcoming crunch time.
So, before things get super-busy (and if you work in a business that focuses on something like home improvement, they already have), I wanted to share some tips and insights that can help your Talent Acquisition team sail through peak hiring seasons more confidently, efficiently, and effectively.
1) Take a Close Look at Your Employer Brand
Make no mistake: Every business already has an employer brand. It's the reputation your organization has in the minds of employees, candidates, consumers, and with the general public. Reputation isn't something over which you have absolute control; however, a distinctive and well-articulated employer brand activated over multiple channels is an effective way to manage the "conversation" and leverage what's best about your organization.
Does your employer brand differentiate you from the competition? Does it clarify what you offer candidates – as well as what you expect from them in return? Do your current employees understand and identify with your message? Are they actively helping you get the word out?
If so, that's a fantastic foundation. But if any of these areas need attention, you could be missing out on many of your best-fit hires.
2) "Converse" with Candidates on Their Own Terms
The days of post and pray are long past. Your message needs to be delivered where your talent is - and in the ways they want to interact with it.
Conversational talent marketing leverages consistent omnichannel communications that reinforce your employer brand throughout the entire talent lifecycle. If your target candidates are comfortable with texts and tweets, that's where your message should appear. If they prefer email, a carefully planned drip marketing campaign may be the best route. The core principle is to make the candidate experience engaging, informative and personal at every touchpoint. And no, the members of your TA team don't need to be marketing experts: all of the above can be achieved through automation.
3) Make it Easy to Apply
Completing a hiring application shouldn't be a job in itself. AI and machine learning can take a lot of the information "burden" off your candidates by using their existing online profiles (even just an email address is a good start) and asking key questions that provide a fuller picture of interests and qualifications. A ready-to-go talent marketing campaign supported by AI talent marketing solutions can engage them throughout the hiring cycle – up to and including scheduling a face-to-face meeting.
And when it comes to completing the actual application, "less is more" is the way to go. Ideally, you want an experience that mirrors the online shopping carts your candidates are used to seeing as consumers: quick, efficient and painless.
4) Use Media Strategically
When Marshall McLuhan coined the phrase "The medium is the message" way back in 1964, it's almost as if he anticipated the digital transformation that's so much a part of talent marketing today. It's no longer enough to simply deploy your message through a few tried-and-true channels. You should always be aiming for a seamless, consistent candidate experience, wherever your target audience interacts with you. And that starts with a sound media strategy.
Fortunately, the right technology can – once again – take most of the guesswork out of the equation by connecting data and insights already at your disposal to map out a plan to get your seasonal hiring campaign up and running in the most effective channels. Ai and machine learning also give you a real-time advantage, allowing you continually optimize the media mix in real time to get the most from every dollar spent.
5) Personalize Your Approach
The bar for the candidate experience has been raised – and seasonal hires are no exception. Nobody wants to be treated as a number or an afterthought! Your approach should always make candidates feel special – whether they're reading a job description, participating in a hiring event or looking at a Facebook post. With over 40% of candidates coming to your opportunity through an aggregator like Google for Jobs or Indeed, you can't expect your career website to do it all alone.
Conclusion
Today's candidates want an interesting, compelling candidate experience full of content that's important to them. For a seasonal hire, this could be opportunities available in their local area, a flexible full- or part-time schedule, a product discount or even a reminder that the organization that hired them last season is looking to re-connect.
A strong talent marketing campaign will help you take charge of your seasonal hiring initiatives right now - and also give you a jumpstart for the next peak season.