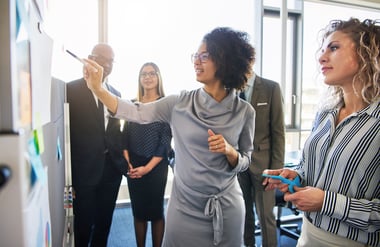 Having a defined — not to mention compelling — employer brand is critical, but how you activate your employer brand is every bit as important. Media — specifically strategic media planning — plays a key part in activating that employer brand, helping you effectively allocate your budget to performing outlets, while driving passive and active candidates into your experience. That includes those who need nurturing. Once you drive them into the funnel, you can remarket to them and prompt them to take action.
As an online community for top recruitment marketing ideas, we at Rally provide ideabooks, guides, in-person training, online courses and educational product demonstrations to help professionals hone recruitment marketing strategies, gain new skills and lead the future of talent acquisition. So, I know firsthand the challenges we face as an industry and the exciting technologies that are helping us do our jobs better and smarter.
That's why I recently joined John Farelli, product manager at Symphony Talent, in discussing significant job advertising trends for 2019. Our recent webinar, "Leap Ahead or Fall Behind: 2019 Job Advertising Trends Not to Miss", covered topics such as:
The importance of having an immersive, effective candidate experience that leads to conversion
Why adopting technology to automate media optimization efforts saves time, effort and frees up recruiters to build one-on-one relationships
Why programmatic media is critical to your media strategy
Tips for re-allocating budgets to better performing strategies
Why traditional forms of media, such as in-person and radio events, also remain key
During the webinar, we featured an enlightening Q&A session, and I'd like to share those questions — and John's responses — here.
What software do you use to track the effectiveness of media?
John: Google Analytics is a great way to track many of the things we discussed. If you're using it already, you can bet it puts you ahead of the game. Ideally, your analytics platform should be connected to your advertising because costs can automatically be associated with the tags, which collect data. Remember, too, that advertising platforms typically allow for the automatic placing of tags. So, there's little need to worry about manually tagging and tracking media. You just need to look at the results.
What are best practices for centralizing analytics?
John: The first step is having some sort of tech platform. In the absence of this, you need to ensure — at a minimum — that incurred ad costs are adequately tracked. You need to be able to compare that against your baseline total applicant numbers.
What do you feel about using surveys to gather data on how candidates learn about jobs?
John: Surveys, while somewhat useful, are highly unreliable. They skew heavily toward "active" types of advertising, such as job ads, while discounting more "passive" advertising, such as display ads and Google AdWords. In reality, passive advertising does a great deal to elevate awareness of your employer brand — even if it's not overtly top of mind.
What is the best place to learn more about tags?
John: Tags are simply small pieces of code that get inserted on your careers site. Sometimes tags are called pixels. What they do is they track a candidate's activity on your website and other websites they visit, so that your advertising platform can deliver your ads to the right candidates at the right time. All you need to do is ensure that the tags are added to your careers site, and your recruitment marketing agency or careers site provider can help you do that correctly.
What is the best applicant tracking system?
John: Symphony Talent! That said, you want to look for a strong candidate experience, an easy apply flow and the ability to track conversions on the "thank you" page. By that I mean you want to be able to see which candidates complete an application and to know which ads got them there. A tag added to your "thank you" page is one of the best ways to track this.
How, if at all, is retargeting connected to tags?
John: Tags — pieces of code that live on a website — allow you, as an advertiser, to show ads to individuals who visited your careers site or started an application. You can then serve ads to them elsewhere online, such as when they're making a purchase on another site, and then entice them to click on your ad to come back to your careers site. To do retargeting, I recommend working with a technology partner.
When it comes to a centralized analytics system and "owning your own data," what are some top tools?
John: I'd recommend looking for a single analytics platform like Symphony Talent's, which brings all of your data from media, career website, CRM, ATS (whether it's our ATS or your existing ATS) into one place. If you're not a Symphony Talent client, Google Analytics is a good start.
Have you found — when optimizing career websites and job ads — that using SEO and metadata is worthwhile?
John: Absolutely. The behavioral analytics from career websites can provide invaluable insight into how candidates experience your processes. If the career website platform is leveraging Google Cloud — like ours does — you get analytics out of job title searches, too. Every data point can then be applied to your job advertising strategy to improve conversion rates.
Before signing off, I wanted to take a moment to thank all of you who attended our webinar, as well as those who sent questions — ones many in the TA community share. I also appreciate John taking the time to weigh in with responses.
For those of you who want to reference the webinar or didn't have the chance to attend, check out the webinar on demand.