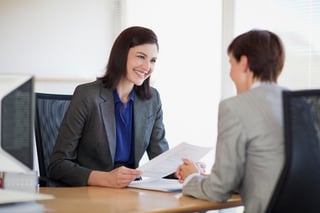 High turnover rates in some industries such as restaurants and hotels, healthcare, and gaming are inevitable—retention with some workforces is simply trickier than with others, particularly in a solid economy. Take hospitality, in which the the rate of turnover climbed to a whopping 72.1 percent in 2015. No matter the industry, the challenge lies in replacing departed employees as quickly, cost-effectively, and efficiently as possible while still hiring the best candidates. After all, an enthusiastic, well-qualified, well-vetted employee is more productive and less likely to leave on a whim …
Employees are a company's most important asset, so the tactics used to attract, evaluate, and inspire the best workers must be dynamic. Here are some ways to create superior talent acquisition strategies that can help your organization in the short term and the long run:
Create a Brand
More than likely, your company has a brand image it projects to consumers. This brand is constantly nurtured, adjusted, and marketed in order to create and maintain a favorable reputation with current and potential customers. A similar approach should be used with job seekers as well: Create and nurture a brand to sell candidates why working for your company is a great opportunity. How is your company different from competitors? What values and philosophies are appealing to job seekers? How does your employer brand align with your consumer brand? Answering these questions and others solidifies your identity and places a greater emphasis on the increasing importance of an employer value proposition—the concept that what can an employer do for an employee is just as important as what an employee can do for the employer.
In 2016, the job market is more than candidate-driven—it's candidate-owned, with qualified workers not only in demand, but also enjoying the ability to be choosy about who they work for. As a result, brand and recruitment must work in tandem to attract top applicants, lest they gravitate to a competitor they perceive to be a better fit. And a strong employer brand isn't necessary just before hire—it must extend beyond a worker's first day. Employees who feel empowered and engaged in their new jobs will not only be more productive, but also become advocates your company, thus strengthening your brand even more.
One Click, Many Channels
Recruiting departments that rely on just a few outlets to advertise jobs and showcase their brands are finding themselves at a serious disadvantage in the current hiring marketplace. An omni-channel approach maximizes where and how you find the job seekers that will best suit your needs, as well as how to nurture them once they are in the thick of the application process. In this way, you are going to the channels—the home bases, so to speak—where your ideal candidates live and breathe instead of making them find (and sometimes miss) you.
To create superior talent acquisition strategies, next-level hiring professionals must consider this new omni-channel approach to recruitment. Yet where does one start? There are many job boards out there, advertising dollars see little return on investment, and updating a career website doesn't really get the word out. To think about omni-channel, talent acquisition professionals should step into the shoes of modern marketing departments and consider who they are trying to reach and, perhaps, even consider developing personas for the candidates they want to attract. From there, determining which channels to tackle and which message makes sense for each is just a matter of peeking through the lens of each persona.
With a modern recruitment solution, embarking on this omni-channel approach is best facilitated with one holistic, integrated suite of tools that allows hiring professionals to reach the right people in the right place at the right time.
Streamlined Onboarding
As already stated, talent acquisition strategies cannot simply be getting job seekers to apply. Your initiatives must lead and engage applicants through the entire journey, including onboarding once they are hired. Technology can play a big role in streamlining this process. A complete solution will include:

A robust candidate relationship management (CRM) system can get many of the technical details out of the way before the new hire ever puts on a nametag.

An applicant tracking system (ATS) keeps candidates involved in the hiring process, continually moving them down the path to their first day on the job.

Credentials and Candidate Assessments ensure hires are correctly matched to the jobs they are most qualified for.

Recruitment marketing technology is used to facilitate micro-engagements from targeted emails to event landing pages so that new recruits are excited from the get-go.

Tools for enabling employees

to promote content on social media allows companies to leverage their most passionate advocates.
Analyze and Adjust
Talent acquisition strategies cannot remain static—they must evolve as the workforce, your company's hiring needs, technology, and the economy do. Measuring the impact of your recruiting efforts is imperative to staying on pace, if not one step ahead, of the hiring trends of job seekers and your industry as a whole. Today's recruiting solutions provide an array of analytics to gauge the effectiveness of your talent acquisition strategies. Don't let the results linger—take action and adjust your tactics to maximize success.
What talent acquisitions strategies are working for you, and what tactics are coming up short?