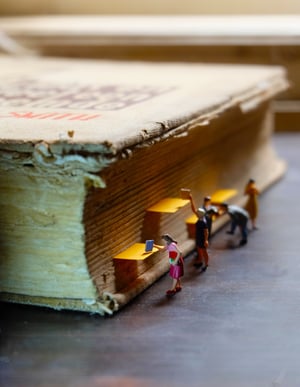 Have you ever read War and Peace? It's one of the longest novels ever written and it took Leo Tolstoy nearly seven years to come up with his final version. Twelve hundred-plus pages, dozens of characters, multiple plots and an epic philosophical discussion might be just the thing to get you through a long Russian winter. But if it's quality candidates you're after, resist the urge to channel your inner Tolstoy. You could wind up spending months churning out hundreds (or thousands) of content pages with nothing to show for it.
Think about how information is consumed today. In this digital age, people aren't spending hours focused on a single topic. Instead, they're consuming an endless stream of tweets, posts, text messages, news alerts, videos, and product recommendations based on the last thing they bought.
Candidates want a personalized, seamless experience
Quality talent wants a personalized and seamless experience, not a literary masterpiece. Why complicate things by wasting time and resources creating pages of content no one is going to spend time with (except maybe your legal department)? A typical page of content receives less than 0.5% of views, and the average user looks at only three pages of content (for all of four minutes). The question is figuring out which three pages they are looking at.
And the answer might be to have just three pages in the first place.
Here's where it gets fun
Organizations must make those three pages relevant to the individuals looking at them. How can that be accomplished? Thankfully, there are software solutions available right now that give you the ability to know the following:
Where someone is located (by seeing their IP Address)

What jobs they've been searching for (by cookie tracking)

What school they attend or company they work at (by seeing their domain IP)

What language they prefer (by browser setting)

What device they're using (through mobile responsive content)

Their personal interests, like: whether they're into fitness or have young children, etc.
How can you leverage these data points?
Well, imagine your company just announced a multimillion-dollar tech investment. You have IT jobs in Switzerland within 30 miles of an interested – and highly qualified – website visitor. This potential hire attends a core university where you'll be holding a job fair in about a month. She speaks French, is into fitness, and has a mobile phone. Also, your CIO is an alumnus of the school.
Now – what do you put on those three pages to entice this potential candidate? You would tailor what she sees based on this data, such as information about your upcoming job fair hosted by an alum and the benefits your company provides, such as your fitness center, right? Exactly.
After you've put in the effort to utilize tools for a personalized experience don't drive away applicants by subjecting them to a 30 minute or longer application process! This is when more than 70% of people drop out (and they're most likely some of the best ones). Instead, grab their email address and have them answer 30 seconds worth of questions. Then nurture them along gathering more information as the process goes further – the same way your Marketing Department would for consumers. When candidates know you want them as an individual, they'll gladly complete any form you (or your Legal department) still require. And how do you transform and personalize your career site to provide the best candidate experience? Using the right integrated ATS and CRM, with automated campaigns providing the best content marketing for your open positions, is the way to go. Let your HR team focus on candidate experience and employee engagement. Use software tools to handle the majority of the talent sourcing legwork.
Conclusion
The goal should not be to create hundreds of pages of static content and assume job seekers will spend the time to navigate through and find what is relevant to them. It's really about generating a continuous stream of relevant content and serving it to the right talent - content about the very job description they are considering. It take a commitment (and yes, a budget) to curate this content. But the goal is a streamlined process akin to a Facebook update vs. a "Russian novel" that no one reads.
Want to know the top 5 HR technology trends on the horizon for 2020? View our free webinar on demand featuring Madeline Laurano, Founder of Aptitude Research, Susan Russell, Senior Manager, Talent Acquisition at Nestlé Waters North America, and Symphony Talent's Shannon Seery - Download now.