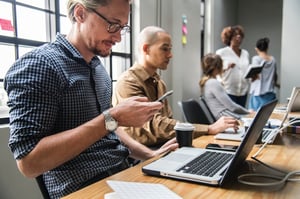 Does anyone remember Cliff's Notes, those little black and yellow student "study guides"? In the pre-internet era, students everywhere relied on them to help explain the deeper meanings behind "The Great Gatsby," "Hamlet" and countless other literary masterpieces (or – let's be honest – to save time in reading them all the way through).
At Symphony Talent, we're finding that there are a host of topics, terms and technologies that can take a bit of time for people to wrap their heads around. It's one reason why our "101" series of blogs has been among the most popular on our site.
Just keeping up with all the developments in the talent acquisition sector can be a full-time job. We get it and - in the spirit of Cliff's Notes - we've put together a run-down (make that "cheat sheet") of trending recruitment marketing buzzwords in our 101 series.
It's a great jumping off point for a deeper dive into what's emerging on the horizon and how you can leverage new approaches to attract, engage and retain quality talent.
Just click on the links below for more insights.
Trending Recruitment Marketing Topics:
Analytics: If the "spreadsheet-style" approach to data and analytics has you reaching for the Advil, check out this overview to see how easy it is to use the latest cloud-based analytics tools to spot trends and make fact-based decisions.
Banner Ads: A brief recap of why and how recruitment banner ads work and how to use them as part of your omnichannel job advertising strategy.
Customer Service: See how today's definition of "customer service" has evolved far beyond the call center cliché.
Drip Campaigns: Don't overlook one of the most effective strategies for nurturing a candidate relationships over time.
Personalized content: In a world where the candidate journey is all important, here are some suggestions for leaving post and pray behind forever!
Programmatic Media: The art – and science – of making sure your employer branding message gets in front of the right audience.
Recruitment Marketing: Learn all about The Four P's of recruitment marketing and how they'll help you attract quality talent.
Interested in more?
Now that you've learned what's trending in recruitment marketing technology, are you looking for ways to leverage employer branding and content to shape a best-in-class candidate journey? View our webinar on demand to hear two candidate engagement experts share their insights into what kinds of content (and which channels) resonate with today's highly selective candidates and how a strong employer brand helps bring it all to life.