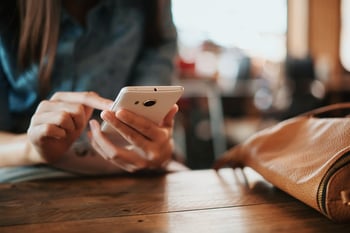 If you think about it, your candidates are "consumers" of career opportunities. They want to connect with employers the same way they do with their favorite brands. And, just like consumers, candidates are very much in the driver's seat. If they have a bad experience interacting with your company, they'll take their "business" elsewhere.
The goal isn't necessarily making everybody happy (after all, not every candidate becomes a hire). It's really about a perceived fairness in the journey. Marketing departments know this, and the best of them personalize the online shopping experience so that consumers see their name along with suggestions for products they're probably interested in. The candidate experience needs to work the same way. From the moment job seekers first see your message to the moment they apply, the content they're looking at has to be relevant, authentic and more personalized with every visit.
Shelley Fisher, Recruitment Marketing Manager at Vanguard, Kevin Grossman from the Talent Board and members from the Brazen and Symphony Talent teams got together recently for a Webinar about how companies can enhance the candidate experience through personalization.
If you missed the webinar, you can listen to it on-demand here.
New Technology, New Expectations
Because of advances in technology and big data, companies are seeing a shift in candidate expectations. Most candidates know about your company before you know them. In fact, over 75% of them do their own research. In addition to the nature of your business, they want to know about your core values. And they're exploring everything from career sites to blogs, videos, testimonials, referrals and reviews from trusted third-party sources like Glassdoor to find out.
Employees as Advocates
Candidates trust employee information most. So for Vanguard, personalizing the candidate experience took an omnichannel strategy, which put employee stories front and center. According to Shelley, candidates "want to see value, want stories, why employees choose to work here." Vanguard's employees are conduits to attract talent – and all the different channels work in synergy to help candidates resonate with Vanguard's employer brand.
Vanguard's career site features a Career Lattice, which shows how different careers progress, what a "day in the life" looks like, and how a role connects back to the company's mission. This resonates strongly with millennials who, research shows, will take less pay to work for a company whose culture and core values reflect their own. Vanguard notes that candidates are spending considerable time engaging with these pages, which generates a wealth of useful statistics and metrics. Vanguard leverages this information, using Artificial Intelligence technology to drive traffic to open opportunities, allow candidates to see the roles they're best suited for and provide advice. "It's helping them succeed," notes Sherry.
Making it Easy
It's also important that candidates find opportunities easily and that you're meeting candidates in the channels where they are spending the most time. Vanguard knows that their candidates are on mobile, so they built out custom landing pages (aka microsites) related to specific opportunities. By simply texting a code, candidates can see the jobs and content most relevant to them.
Keeping it Real
Vanguard's Careers Blog offers another highly-personalized experience. Vanguard first piloted a blog with their interns, challenging them to become brand advocates, and according to Sherry, "They loved it!" Based on the initial success, the blog was scaled up to include employees throughout the organization. Blogs are posted twice a week on topics ranging from community philanthropy to diversity and inclusion. Vanguard now has a repository of great, "snackable content" which they can use across multiple social channels, including LinkedIn.
Candidates are always ON, always connected in real time, so Live Chat features are another great way to add a real-time personal touch and quickly move the best candidates through the recruiting funnel. Bringing hiring managers into chats adds to the humanization of the brand, building an emotional connection that strongly impacts quality of hire.
Sustaining the Momentum
Talent Board noted that once the building blocks are in place, sustaining them becomes the biggest challenge. "Clients are always saying 'We need a new angle…fresh thought leadership.' It comes to thinking and acting like a marketer - and doubling down on what works."
A Final Thought
Remember, every single touchpoint - technology and human - impacts both the candidate experience and your business. Make every connection personal, relevant and meaningful and you'll build relationships that last with the quality candidates you want most.
Want to know the top 5 HR technology trends on the horizon for 2020? View our free webinar on demand featuring Madeline Laurano, Founder of Aptitude Research, Susan Russell, Senior Manager, Talent Acquisition at Nestlé Waters North America, and Symphony Talent's Shannon Seery - Download now.