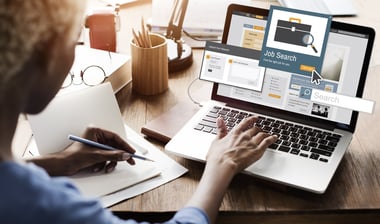 In Part One of our discussion, we looked at how a well-crafted Employee Value Proposition (EVP) not only helps you attract top candidates, but also acts as a valuable retention tool for engaging and retaining your best employees.
But even the strongest EVP can only be as effective as the strategies you use to bring it to life (after all, candidates need to see it before they can embrace it!). And that's where having an equally strong activation strategy comes into play.
Employer Brand Activation
Now that you have an authentic and engaging EVP, it's time to get it out in front of the right people by casting a wide net to powerfully — and efficiently — build brand awareness and brand equity. This is where an omni-channel approach to recruitment marketing comes in. Harness the power of social media and other channels to start a conversation with candidates about your EVP.
Remember, the medium doesn't just deliver the message — it informs it. When you use transparent, open recruiting channels that prioritize communication to share your message (or messages, if you have more than one target audience), transparency and openness become a part of that same message.
Take the omni-channel approach (and your talent cycle) one step further by involving your best brand advocates — your own employees — in disseminating messaging surrounding your EVP. Messaging about your employer brand is always better received when it's delivered by employees themselves. Think of it as the power of "word of mouth," vs. paid public relations. Harness the power of social media tools that encourage employees to share information about the company on their personal accounts regarding hiring, employer brand, and culture — and make it super easy to do.
Turning employees into advocates gives your EVP two distinct advantages:
Your EVP is disseminated far and wide through your employee advocates' social channels, contributing to the omni-channel approach;

It provides an opportunity for candidates to identify both with the message and the messenger.
And if candidates do identify with the messenger, then working for your organization — with the prospect of being surrounded by like-minded, enthusiastic individuals — just got a whole lot more appealing.
Measure the Results of Your EVP Roadmap — and Refine It
Once your EVP is in place and out in the world, it's time to measure its success. EVP ROI measurement may include employee surveys, increase in candidate registrations, and employee retention statistics.
Keep in mind that focusing on data related to EVP gives your company insights into not just how to improve the perception of your EVP but how to improve the employee experience itself (closing the gap between perception and reality). Take this example from Hootsuite: after analyzing retention statistics, the company realized it was losing a large chunk of younger employees every year. Hootsuite's CEO, Ryan Holmes, chalks this up in part to millennials' desire to constantly learn new things and take on new challenges. To improve employee retention and better align its EVP with the candidates Hootsuite wanted to attract, the company instituted a learning program, modeled after Google's popular "rotational program."
Hootsuite's actions illustrate the importance of keeping your EVP and employee experience authentically aligned. If your hard data — like retention statistics — point to a misalignment, don't just sweep the statistics under the rug. Instead, use them as a catalyst for meaningful change.
Of course, developing and disseminating a highly effective EVP takes work, but here are three ways to get started:
Map out an EVP that's both magnetic

and

honest about what your company expects from employees.

Invest in intuitive social tools that turn employees into advocates so that they can deliver well-received messages about your EVP to your ideal candidates.

Refine your EVP based on employee feedback, using hard data, surveys, and other means – and be prepared to readjust it periodically.
Ultimately, a strong EVP becomes both a smart recruitment strategy tool and a powerful source of employee feedback. Using employee feedback to close the gap between your EVP and the actual employee experience will have your current employees thanking you… and future employees flocking to you.
Want to know the top 5 HR technology trends on the horizon for the year ahead? View our free webinar on demand featuring Madeline Laurano, Founder of Aptitude Research, Susan Russell, Senior Manager, Talent Acquisition at Nestlé Waters North America, and Symphony Talent's Shannon Seery - Download now.