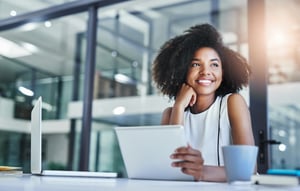 Voluntary resignations are at an all time high, while unemployment rates are at historically low levels. And approximately one-third of new hires quit their jobs after about six months.
What could entice them to stay? The usual suspects — like above-average pay and benefits — still top employee wish lists. But hot on their heels is a workplace that's a "strong fit with [their] values," which was cited by 56 percent of survey respondents.
That's where a well-defined employee value proposition (EVP) comes in. An organization's EVP speaks to the "why" of working for an organization — a culmination of key benefits, cultural differentiators, and the employer brand — and it helps candidates determine whether the organization is a "strong fit" for them. Recruiting for cultural fit is a benefit to companies: when employees share similar values with the organization as a whole, it leads to greater efficacy and productivity at work, and employee advocacy outside of work. Plus, it saves on the bottom line.
A study from Columbia University found a strong correlation between an employee's satisfaction with company culture and turnover intention. Nearly 50 percent of employees who didn't share a strong cultural fit with the company reported that they were "very likely" to hunt for a new job in the next year. Compare that to just 13.9 percent of employees who felt that they were a good fit with company culture.
A clear, compelling EVP not only helps retain ideal employees, it attracts new ones. Here are the keys to developing and disseminating an EVP that's downright seductive:
Define Your Employee Value Proposition
Every organization has an EVP, whether or not they've actively cultivated it. However, when organizations don't intentionally cultivate EVPs, they're essentially saying it's OK for their EVP to be defined by others. That results in a disjointed message and invites the spread of misinformation about what it's really like to work at the organization. Without a clearly defined EVP — and a clear plan to get the message in front of the right candidates — your message can easily be hijacked by something like an online review from a disgruntled employee.
Organizations that are serious about attracting the right talent will be intentional about their EVP. They'll design and refine a roadmap for their ideal EVP until it's magnetic , while still being honest about the employee experience. And their efforts will pay off. Within the realm of talent acquisition and management, studies have shown that brands that use their EVP strategically and effectively are five times more likely to have engaged employees, and twice as likely to financially outperform their peers.
Match Employee Expectations Authentically
For an EVP that resonates with high-performing candidates, your message needs to be exciting and enticing. But be careful about overselling the employee experience. As Tom Sarner, of HR Dive, writes: "To keep and attract more of the highest performers, employers need an authentic employee value proposition that sets them apart [...] That would mean a culture where employee expectations and desires are closely aligned with the employment experience offered."
In short, don't sell candidates on an experience they're not actually going to get. Instead, focus on providing a holistic view of your organization's employee experience. Promoting your employee development programs as part of your EVP is a smart place to start, but make sure you're also promoting your company's values, mission, and overall culture. The EVP is not about any one benefit — like a cool development program, high pay, your "entrepreneurial spirit," or flexible work schedules — but the whole package. The way you present your EVP (i.e. authentically) becomes a part of the EVP itself. Not to mention, "honesty" is an attractive quality in any employer!
Leverage Emotional Drivers
You need to understand how your EVP needs to pivot for various departments, locations, and sub-brands. Someone who chooses to work at your company as a lawyer is going to have different motivators than someone in Marketing. Understanding the emotional drivers for your critical hiring/retention areas is important to communicating in a relevant way to your employees as well as potential employees. You can even personalize how you communicate your EVP based on what you can automatically detect about your career website visitors.
Be Clear About the "Give and Get"
What employees get out of working for your company is only one half of the EVP. The other half is what you expect from them. The EVP is all about balancing the "give and get": you do this for us, we'll do this for you. It's tempting to downplay employer expectations and instead play up all the incredible benefits of working for your company. An EVP that's out of balance, however, is a disservice to both the employer and potential candidates. When you're clear about employer expectations, you ensure that you're attracting not just strong talent, but the right talent.
We hope this blog inspires you to explore ways you can use a strong brand identity to build a more powerful recruiting and retention strategy for your most critical hiring needs. In our next blog, we'll dive deeper into employer brand activation and measuring results. Stay tuned!
Want to know the top 5 HR technology trends on the horizon for the year ahead? View our free webinar on demand featuring Madeline Laurano, Founder of Aptitude Research, Susan Russell, Senior Manager, Talent Acquisition at Nestlé Waters North America, and Symphony Talent's Shannon Seery - Download now.