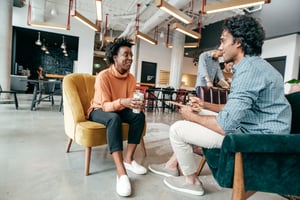 It has been a big year in the world of talent acquisition technology — not to mention for us at Symphony Talent as a whole. As 2019 comes to a close, we wanted to reflect on what we've learned and accomplished alongside our clients, and can look toward in the year ahead.
With that in mind, let's recap the key takeaways from our 2019 webinars, each one addressing key pain points and finding solutions not only for individual clients — but in ways that apply to industries across the board to improve the candidate experience and the overall talent journey.
5 Best Tips for Evolving Employer Brands
In February, we highlighted global brand Thermo Fisher Scientific, one of the "biggest brands you never heard of." The organization had to establish a clear, consistent and impactful employer brand and then use content marketing and strategic social media marketing to convey its message on a worldwide scale.
The lesson learned by this world leader in digital science? You've got to know your end game first. Knowing your goals helps you predict — and shape — the outcome. Just like first impressions are important, knowing your endgame benefits the employer brand journey that precedes it.
Metrics that determine ROI range from employee engagement and retention rate to brand awareness, customer satisfaction, the number of applicants, new hire surveys and referrals.
The way success is defined varies by company. So, be sure to determine how you'll measure the success of your own employer brand.
Watch the webinar on demand here.
6 Pro Tips for Seasonal Hiring Success
When working with DICK'S Sporting Goods, it was necessary to think in terms of the candidate journey. Along with meeting the consumer when and where they want, employers need to meet candidates when, where and by the means they want…
While the candidate journey typically includes the stages that job seekers go through in the hiring process — awareness, consideration, interest, application, selection and hire no candidate journey is linear. The interactions someone has with your employer brand, the channels where those interactions happen, whether those interactions happen with employees or through formal marketing messages and the messaging itself are all specific to the person, their situation, and their preferences.
For DICK'S, that meant launching a holiday hiring-focused talent marketing initiative called National Signing Day. This campaign alone fulfilled over 94% of the company's seasonal hiring goals.
Why did it work so well? Because DICK'S activated its employer brand seamlessly across all channels. This included:
The talent marketing strategy
The way it targeted needed personas
Enlisting a huge programmatic job advertising push
Splash ads
Career site pop-ups
Career site takeover ads
Social media
Catch the webinar on demand here.
How to Target the Talent You Need Now
A national health and wellness organization with more than 40,000 employees, Pittsburgh, Pennsylvania-based Highmark Health offers health plans, dental solutions, reinsurance, retail eyewear and eye care services, technology-based healthcare, and post-acute management, as well as health services through Allegheny Health Network.
Lacking a talent pipeline to fill key tech, cybersecurity, finance and actuary positions, it needed to boost brand recognition in order to compete with big-name companies like Google, who are outside of the healthcare sphere, while competing with other large Pittsburg-based companies, like DICK'S Sporting Goods and PNC. Further, Highmark had to fully live out its mission as an employer, which involved upping its veteran and military hiring, emphasizing diversity and inclusion in hiring, and bolstering its campus recruitment efforts.
The lesson here? It's never been more crucial for brands to provide an integrated content experience across all touchpoints of the candidate journey. Creating compelling content across all channels and delivering it seamlessly to specific users (personas) is at the core of a successful omnichannel approach — one that memorably connects a brand to an individual on a personal level.
She what Highmark Health learned and how it impacted the candidate experience here.
The Candidate Experience Redefined
Our client, Hilton Grand Vacations, knew that while technology drives the candidate experience, a company's recruitment marketing strategy that is seamless across all channels is only as effective as the organization's ability to convert.
The reality is, having a quick, simple "checkout experience" — one that's akin to our e-commerce experiences — is a necessity if you're going to deliver a great candidate experience.
HGV learned that by integrating its talent marketing technology with its ATS, the organization created a checkout-style application experience much like an online "shopping cart". By making the entire process simple, quick and painless, it impacted its conversion rate and sped hires. In the event a candidate dropped out, with the data captured HGV begin building — and nurturing — ongoing relationships with prospects across multiple touchpoints. Those interactions then became more targeted and relevant with each interaction.
See how HGV's efforts worked out by watching the webinar here.
Strong Employer Brand, Powerful Content
Tom Brickley, Head of Social Media at Symphony Talent, joined Alex Horner, Global Talent Marketing and Digital Manager at Mars Incorporated to discuss the importance of having a solid content marketing strategy.
It all starts with evaluating what you have and where you're going. As you build your channel strategy, it's important to ask yourself:
Where do you need to be?
How do you get in front of the right people?
What are the channels you need to use?
Who is your target audience?
What are your key hiring goals?
You then need to start posting targeted content based on the talent you need. In other words, what's attractive for a candidate working in the factory is likely not the same for someone in sales. So, you need to continuously optimize it based on engagement and your needs.
Learn more by watching the webinar here.
Influencing the Candidate Experience Through Programmatic
We joined our client, Leanne Murray, director of talent acquisition at Reyes Holdings to shed light on how integral it is to leverage programmatic job advertising and identify candidate engagement influencers. It is, after all, the way to make the most informed buying decisions and stretch your spend to convert the talent that you need.
There was a time when talent acquisition leaders, like Murray, relied on broad reach media — such as job boards, print, radio and billboards. Then, they'd "post and pray" their attempts reached a desired candidate with a certain persona.
With its new programmatic job advertising platform, however, Reyes can deliver targeted banners that directly advertise opportunities and tell the stories of those working in supply chain operations. This builds candidates' awareness that Reyes is a great place to work, while making it easy for candidates to learn more, stay connected or apply.
If the content that a candidate is being served proves engaging and useful, that candidate will continue to seek out more information and want to be part of the company's journey. On the flipside, if what Reyes serves fails to engage and seems irrelevant, the candidate quickly becomes disinterested and turned off by the brand.
Because your employer brand tells your story – programmatic job advertising will keep your candidates clicking when your story's told well.
See how data powered decisions for Reyes during the webinar.
5 HR Tech Trends You Can't Ignore
During a webinar focused on key HR tech trends, Susan Russell — senior manager of talent acquisition for Nestlé Waters North America — shared insight into the ways the organization fueled its talent pipeline through internal mobility.
At a time when 70% of companies are investing in internal mobility, it's essential to grow your talent pool from within. After all, you invested a lot of time, money and effort into hiring a candidate. Once you get them in the door, you want to make sure that they stay, feel challenged and remain confident they're in the right job.
Depending on the employee, that could mean upward mobility. For another, it's a parallel move that places them in a role they feel aligned with.
At the end of the day, there's a lot of value to keeping candidates content — and productive — within your organization.
Access the full webinar on demand to learn more about the top HR tech trends on the horizon for 2020.
Conclusion
Whatever your outlook for 2020, talent acquisition and recruitment marketing technology has come a long, long way in helping you connect with the candidates you seek. Each of our clients had a different journey and a specific set of goals, but the common thread is clear: time and money are saved and hiring efficacy increased with recruitment technology behind the wheel.