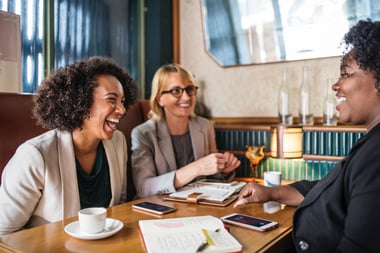 Artificial Intelligence (AI) is rapidly changing the game when it comes to recruitment marketing, and more and more hiring departments are taking notice — especially since many were looking for talent in all the wrong places.
A recent survey conducted by global recruiter Hay noted that while companies are aiming high when it comes to hiring candidates, a serious skills shortage is hampering their plans. The reason? 95 percent of qualified candidates aren't looking to make a career move. Add that to the fact that companies aren't all that realistic about the talent pools in their regions, and the result is jobs go unfilled for months on end.
AI is a Powerful Tool — For Many Reasons
When traditional recruiting isn't enough — which is the case today and moving forward — AI steps in. The Deloitte Human Capital Trends report notes, 38 percent of companies use AI, and a whopping 62 percent expect to by the end of 2018.
Given the shortage of talent and the presence of low unemployment, AI is quickly emerging as a necessity for HR departments. Proof comes from the recent Deloitte Bersin report, companies that embrace AI, predictive data analytics and other technology tools are more successful in securing not just talent, but the right talent. And it's money they can take to the bank: companies that harness these technologies saw 18 percent higher revenue and 30 percent greater profitability compared to their less tech-savvy counterparts.
The reason is data-driven analytics and digital, cognitive tools let companies better assess and vet applicants in the first place, resulting in fewer hiring misses based on false logic and bias.
AI Finds Candidates — and Vets Them
The reality is whether most companies know it or not, they're seeking passive candidates — those who possess highly coveted, specialized skills, are employed and aren't looking for work. Since studies suggest that 80% of the talent pool is open to new opportunities — or at the very least willing to entertain the idea and speak with a recruiter — this is where AI comes in.

To reach these passive candidates you need to use programmatic media - which in a nutshell means that instead of manually deciding when, where, and to whom advertisements are shown, a machine makes those decisions for you. By leveraging these AI fueled technologies, you are now able to reach out to the candidates who are most likely to convert and who reflect the type of applicants you are looking for.

All the while, AI recruitment marketing shifts tedious, repetitive manual searches to an automated process, saving hiring departments time and effort. Further, because it mimics the retail experience, it gives the "customer" (read: candidate) what they've come to expect — a streamlined process, one that is transactional in nature. One that can be personalized. And it frees up recruiters to build relationships. And to do so with qualified talent — talent that has a greater likelihood of staying and contributing to the revenue pool and betterment of their new company of choice.

In short, predictive AI technology for recruitment isn't coming, it has arrived. And you need to get on board.

Stay on the cusp of what's #NowTrending. Subscribe to our blog.