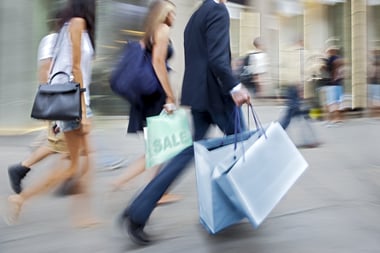 With a peak hiring season fast approaching, I recently co-hosted a webinar which led to a spirited discussion around digital's role in seasonal hiring strategies. Here are a few highlights you may find helpful in preparing yourself for the upcoming talent search.
It's almost impossible to watch the news without hearing about how retail is going through major disruption and change. In the past year, more than 9000 brick and mortar retail stores closed their doors, mostly due to digital disruptions by online retail powerhouses like Amazon and Walmart. However, in spite of the headlines, you might be surprised to learn that the retail sector actually added nearly 670,000 new jobs during the last quarter of 2017.
If you think about it, this makes perfect sense. We're all shopping online more than ever, and this impacts store closings and staffing needs. However, retailers like Amazon continue to disrupt the space with new roles for workers. Of course, many openings still exist for "traditional" store associates.The difference is, you increasingly see employees assisting customers on the floor as they shop using digital processes, in customer service roles (both in person and over the phone) and handling the delivery and processing of online orders.
Digital disruption
Disruptive technology is the catalyst behind this sweeping change. And these same disruptors could have a major impact on the efficiency and effectiveness of your hiring initiatives during peak seasons.
Mobile

– smartphones and tablets make relevant information accessible when and wherever someone wants it

Social media

– reviews, opinions and back and forth dialogue amplifies brand messages and the way brands and consumers connect

Real-time data, machine learning and personalization

put the consumer at the center of everything, creating one-on-one experiences without face-to-face interactions
What can you learn from these disruptions when it comes to seasonal hiring at the store level? How do you get enough candidates into the pipeline to meet the volume required for seasonal jobs? How do candidates get the information they need quickly – in a streamlined fashion – to make the right decision? And how do you balance the time you spend addressing seasonal hiring needs with other aspects of your job?
Let's look at how some retail leaders are taking these disruptive technologies and translating them into a great candidate experience.
Building a database – and relationships – year-round
We'll start with one of Symphony Talent's clients, a major US merchandise retailer that improved their candidate experience by leveraging texting along with a quick and easy mobile optimized application process.
Within the store, signage is used to pique the interest of potential candidates who happen to be shopping. An interested candidate can simply text a code specific to that store and get an immediate text response linked directly to the mobile application process. The entire interaction is extremely quick and easy.
Once the candidate enters their email, recruiters are able to leverage basic information and create a profile based off the email address. Even if candidates don't finish the application process, recruiters can continue to engage them with automated email campaigns that contain personalized information – and relevant jobs.
During the peak hiring season, recruiters are able to reach out to anyone who went through this process in the past - so they don't have to rely on media or other attraction techniques to find those candidates again. What started out as a transactional experience has become a relationship. Recruiters can continue to engage and have personalized conversations and then ask candidates if they want to work during the next peak season.
Mirroring the consumer experience
Another Symphony Talent client, a big box retailer with over 2200 stores, is having huge success with a simplified, completely mobile application process which allows candidates to use their smartphone to quickly find a job and apply. When candidates look for opportunities, they are automatically served up jobs by location as well as recommendations for similar jobs they also might also be interested in (aligning with the consumer expectation). By implementing this easy "checkout" types of process, the client has reduced applicant drop-off and improved their completed application counts for seasonal hiring by almost 50 percent.
This client also leverages job descriptions that mirror their ecommerce product detail pages, giving candidates a sense of their employer value proposition whether candidates come through their career website or directly from another media channel. By providing the candidates with all the information they need within that one page, they can make a better decision and sail through a very quick and easy mobile apply process with confidence.
Automating the interview process
A third client, a major international retail and lifestyle brand, is using video interviewing as part of the application process. With a digital interview, a large component of the interview is automated. A store manager or a hiring manager gets a lot of information about the candidate before meeting them in person and the majority of interviewing is already done. They just need to fill in the gaps (with profile data obtained via the applicant's email address and other sources) to make smart hiring decisions.
The video approach also perfectly aligns with the consumer brand's hip, youth-oriented image, bringing the culture to life and helping candidates quickly see whether they're a good fit.
Obviously, the final handshake that "closes the sales" is still human, but you can use disruptive technologies to not only make your job more manageable but also make the candidate experience highly personalized and relevant at every touchpoint.
Want to know the top 5 HR technology trends on the horizon for the year ahead? View our free webinar on demand featuring Madeline Laurano, Founder of Aptitude Research, Susan Russell, Senior Manager, Talent Acquisition at Nestlé Waters North America, and Symphony Talent's Shannon Seery - Download now.