Yesterday we chatted with innovators and problem-solvers across multiple industries. We started the day with an opening from Simon Phillips, EVP of Studio, Symphony Talent.
We also had the fantastic opportunity to engage with customers, practitioners and influencers who all took the time to provide thoughtful, actionable insights into technology adoption best practices, employer branding and ingraining new technologies into your current HR/TA tech stack.
Overall, we had an action-packed day. Check out some of the highlights below.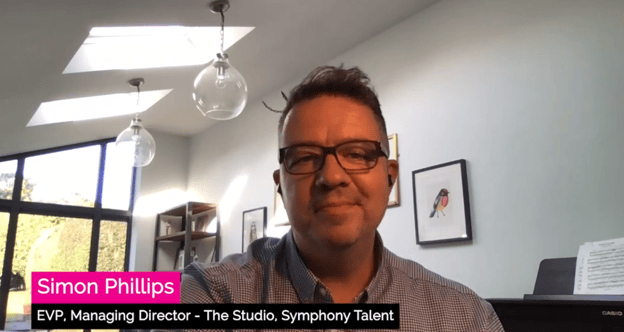 Welcome to London
The JOY roadshow has traveled across the U.S., but this particular stop was super exciting as it allowed us to travel across the pond to our UK headquarters in London!
There Simon kicked off the day with a conversation on how adoption is critical to business success and gave a quick rundown on what attendees could expect from our action-packed lineup.
The truth is 82% of companies struggle with adoption. And our guess is, your company has been part of that percentage at one point or another. We want to change that scenario and support you in automating tasks to empower your teams."
- Simon Phillips, EVP of Studio, Symphony Talent
Simon's top takeaways:
The bigger picture solution to adoption is creating a culture and workplace behaviors that drive innovation and the workforce you need for success.
There are no one-size-fits-all answers for adoption, but the right strategies and tech can help achieve higher adoption rates.
Exceptional user experiences reduce the technology adoption curve.
Check out more tips on tech adoption from Symphony Talent's CEO, Roopesh, in "Is Your Recruitment Marketing Being Adopted?"
Sparking Change at Statkraft
Kate Aunaas Ingram, VP of Global Attraction & Mobility at Statkraft, joined our very own Lizzie Barrett, VP of Brand Strategy at Symphony Talent, to chat through the most impactful ways to roll out a new or modified EVP.
Lizzie moderated an insightful conversation with Kate, answering questions on how to tackle employer branding and adoption.
Employer branding is a marathon. You can't sprint your way through it."
- Kate Aunaas Ingram, VP of Global Attraction & Mobility at Statkraft
Kate's top takeaways:
Patience and timing are key to success. It can take five years to roll out an EVP the right way; you must be willing to put in the work.
Communication and repetition are your best friends. Never assume that people "get it" without ensuring they have all the resources they need to adopt (documents, HR champion, dialogue, etc.).
Education on the relationship between employer and corporate brands goes a long way. The value in each should be reflected across both and reflect your actual employees.
Check out more tips on driving behavior change and the adoption of new technology here in one of my recent JOY Podcast episodes.
TikTok, A/B Testing, and Long Term Planning: 2021 Learnings to Apply to Your 2022 Strategy
Our Head of Social Media & Digital Strategy, Tom Channell, hosted a powerhouse panel with talent acquisition professionals from Amazon, Mars UK, and Sky Betting & Gaming.
The panelists included:
Mikey Aveline, Global Social Marketing Lead, Amazon
Chris Woods, Employer Reputation & Recruitment Marketing Manager, Mars UK
Caroline Rispin, Employer Brand & Digital Marketing Manager, Sky Betting & Gaming
It's hard to keep up with all the digital recruitment marketing strategies. Tom's panel discussion tackled some of the trending strategies today: TikTok and A/B testing.
With today's digital recruitment strategies, you need to create highly-engaged content and set up campaigns on the back end correctly to see success."
- Tom Channell, Head of Social Media & Digital Strategy, Symphony Talent
Tom's panels' top takeaways:
Use TikTok for brand awareness campaigns. One quick tip is to run targeted ad campaigns that are location-specific for two months.
Test your digital marketing campaigns with a small budget first. Test performance, and if it goes well, you can add spending, and if they don't, you can stop.
Track KPIs in your campaigns. KPIs include cost per click, click-through rate and click to site.
If you want to learn more about recruitment marketing KPIs, check out "The Power of RM KPIs for Tech Adoption" here.
JOY Podcast: Adopting Neurodiversity
I enjoyed sitting down with Theo Smith, Founder of the Neurodiversity - Eliminating Kryptonite & Enabling Superheroes podcast for this JOY podcast episode.
To start the conversation, I asked Theo to break down what neurodiversity is and what neurodiversity truly means for your employees and business.
The main driver to successful technology adoption understands different learning curves and learning styles. After all, you can have the best strategy and tech out there, but if your users do not adopt it, then what's the point?"
- Theo Smith, Founder of the Neurodiversity - Eliminating Kryptonite & Enabling Superheroes podcast
Theo's top takeaways:
Building TA tech adoption hinges on a solid implementation.
Planning and executing a successful implementation depends on organizations having the right people, technology and strategies in place.
Implementing neurodiversity as an adoption strategy reduces the technology adoption curve.
Check out more tips on planning adoption in "82% of Companies Struggle With This" here.
Revealing the Research
Craig Barnett, VP of New Client Strategy, & Edwina Emery, Research Manager of Symphony Talent, revealed the research behind one of the UK's top awards: Graduate Employer of the Year.
Craig and Edwina spotlighted the latest trends in early career talent recruitment and how the best of the best have adopted strategies to support their attraction, selection, onboarding, and retention.
Innovation adopted by graduate employers centered around interactive experiences like online games and virtual reality events and encouraging graduate involvement."

- Craig Barnett, VP of New Client Strategy
Craig & Edwina's top takeaways:
Graduates want to know about your culture.
Career websites and third-party sites like Glassdoor and LinkedIn remain the most influential sources of information on your company.
Local Business Spotlight
One of the awesome things about our JOY Roadshow is being able to meet with local businesses.
For this roadshow stop, we met with Ricki Lawal at Selfmade Candle. She spoke about why she started her own soy wax candle business. Her candles are hand-poured in small batches in London and infused with essential oils.

From a CEO's Perspective
Our CEO & President, Roopesh Nair, joined Theresia Hermes, VP of Client Success, for an off-the-cuff conversation about the top challenges in RM today.
Roopesh and Theresia tackled a few of the main challenges, including:
How do we consume all the new RM tech and strategies?
How do we keep users in the systems and use them to their full potential?
How do we create a frictionless user experience to increase adoption?
Don't just go after every shiny object. That means you can't just throw more tech at your team -- you need a frictionless user experience to get a frictionless candidate experience."
- Theresia Hermes, Vice President, Client Success
Test. Test. Test. You need to learn what works for you and what doesn't. It's okay to fail, but you want to fail faster so you can move on. Testing allows you to pivot and move on."
- Roopesh Nair, CEO & President
Roopesh's top takeaways:
Create a failure culture. It's okay to fail at a campaign or project but do it quickly so you can iterate and find new solutions to the problem. Metrics are crucial to determining what works and what doesn't.
Clearly define your systems to understand what each piece does and the outcomes you want from them.
Have a home base. What is your most important recruitment marketing tool? This is the piece that all data flows through that you can pull with confidence. Then find the tech that integrates to it.
Interested in recruitment analytics? Check out "Recruitment Marketing Analytics Should Tell a Story: Tips To Get Your Data Talking."
Want to learn more?
Check out "The Ultimate Guide to Recruitment Marketing Tech Adoption."