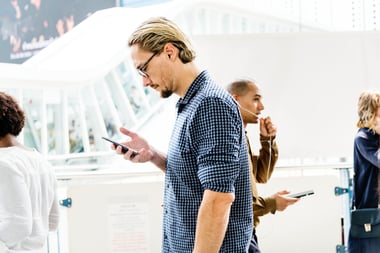 It's safe to say the world of Talent Marketing is changing rapidly. Not just for the Talent Acquisition community, but for applicants and candidates as well.
Which brings me directly to the first thing we should all be thinking about as 2018 winds down.
Any forward-looking organization, needs to think of candidates and applicants as different audiences. Candidates are anyone who chooses to connect with you, whether it's by working for you, following you or being connected. Applicants are those who have put their hands up and asked to be measured against a specific job by applying for it.
Going into 2019, we have finally come around to recognizing the value in all connections, and in maintaining good candidate relationships whether or not they result in a hire. Getting people to connect - as applicants or candidates - takes a combination of effort, money and time. This is either an investment or a cost. Organizations are beginning to understand the real value in maintaining these connections for a lifetime. Much as retailers have recognized the difference between a transaction and relationships, talent acquisition teams need to understand that there is real value in all the data they hold, beyond matching against jobs for the short period of time they are open.
More and more, we are seeing talent acquisition working closely with learning and development. This is because making learning content available outside of the organization is a great way to keep people connected, especially passive job seekers. With internal mobility increasingly coming under the control of talent acquisition, learning content linked to career mapping becomes critical. Learning is also a type of "soft rejection" that is great for candidate experience, as well as providing valuable resources to alumni. With this in mind, it is easy to see the shift from talent acquisition to a broader talent role, less focused on purely acquisition. Learning content is the ultimate employer brand content, because candidates are given the opportunity to learn and practice new skills that improve their employability.
What stands in the way of this transformation is time. While talent acquisition leaders recognize the need to change in order to progress, the increasing number of open jobs due to turnover makes progress difficult, with little time to think about tomorrow because of the demands of today. What recruiters are crying out for is time to affect the change that they know will make the shift between processing transactions job by job and maintaining long-term relationships. Where retention of employment has long been seen as a core quality of hire metric, we are now seeing retention of relationship as being the real measure of success, using the employer brand to continually add new connections, while tracking who stays connected, opening communications, engaging with content, etc. Time is being being managed better by automating as many of the admin tasks involved in the logistics of hiring.
As we move into 2019 (and new tech budgets) this will include tasks such as identification of people, outreach, dealing with inbound inquiries (particularly through chatbots), assessment, questions, scheduling and other tasks. This isn't yet AI in its purest sense, machine learning and recommendation will make these tools better and better, moving the main focus of human activity further down the hiring funnel, with more time for strategy, mobilization of content and one to one relationships.
If we stop thinking of candidates and applicants (except for ensuring we have a tech stack that allows easy movement between the two), and think more of people connected and targets for connection, we now have enough data to be able to understand what motivates people to connect, and then form an ongoing relationship. The key to this is providing personalized digital experiences for everyone. Whereas in the past successful marketing has been based on getting a message out to as many people as possible, in the hope that some of the content is relevant, it is now about individual messages and content to individual people. I describe this as advertising to an audience of one.
This has become possible because we can now track all interactions to identify preferences and reactions from bouncing out to following to a call to action. More digital interactions are switching to messenger or conversational marketing interactions in channels like messenger, LinkedIn, even email (which is now much more likely to be multiple one line emails rather than one long message.) This requires automation to keep this instant and relevant. We are now much more likely to need multiple messages and formats over single messages according to what the individual engages with best, and we measure engagement (interactions) in order to measure the relationship. This should be an important part of your thinking in 2019.
2019 is going to be an exciting year. The one where I think useful automation will break through, allowing personalization and freeing up time for other things. Would love to hear your views. This is far from the beginning of the end for human recruiters, much more the end of the beginning. Hold onto your hats.