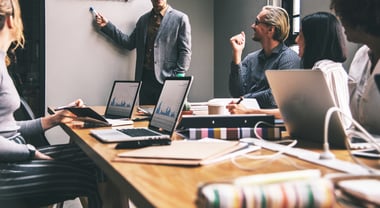 OK, I'm being a bit dramatic. The beginning of the end of what you might ask. I chose this title because when I was sitting on a panel recently talking about the automation of recruiting and the advent of AI, someone asked me, "Does this spell the end for recruiters? Will we all be replaced by machines?" My answer: "It's not the beginning of the end, more the end of the beginning."What do I mean? Well, there are four dynamics or dominant themes that will come to the forefront in 2019 and dictate how we think about how hiring,
It's about the job rather than the career
Learning & Development is the core content
Candidate experience

means

personal

experience

Platforms over individual tech
Let's start with job vs. career. People are more focused on careers than ever before, just not in a traditional way. It's not about "company for life," as much as "company for now." People are staying with companies for much shorter periods of time, to the point where we should consider everybody as contingent. This means candidates are choosing jobs based on what they think will enhance their prospects for their next job.
This means recruiters are going to be busier in 2019, even if their employer is not going through a growth spurt. And this is leading to a new way of thinking about how the job brand aligns with the employer brand.
We can dispense with the concept of active and passive job seekers and consider everyone to never be more than a few months away from moving on, and always open to considering what and where their next job might be. This means single landing pages, more content around the job and more consideration on the best approach to retain relationships with people even when they are not looking to move on. People want to see content from job holders that goes well beyond the usual "day in the life of" stuff. It takes a marketing tech stack based on relationship marketing and conversational marketing to achieve this.
My view is this is leading to a realization that talent acquisition is an integral part of HR, as opposed to the ongoing battle of where we live. That means TA will be taking on more of what might have been seen as traditional HR functions such as internal mobility and onboarding. Learning content, shared externally will become an essential part of an employer brand, providing value to stay connected. This will bring TA closer to learning and development, eventually evolving into a new function covering the life cycle of prospective employees, employees, and ex-employees. The key factors here are engagement and relationship, and the tech stack will need to reflect this.
Stay tuned for part 2 of this blog where I'll talk more about the new rules of engagement, the value of data and how automation will bring it all together.