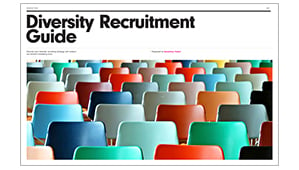 A sharp focus on diversity recruitment is not new. For years, talent acquisition and human resource professionals have created business cases and translated ROI to build a strong foundation for diversity recruitment strategies.
Lack of funding, resources, leadership and commitment often forces these projects to fall on employee resource groups and ultimately fails to yield the needed change. Without a robust diversity strategy, inclusive culture and recruitment technology, we fail to make progress.
In this guide, you'll uncover how to turn your DEI plans and goals into action.
Download the full guide for:
An understanding of how to lead with authentic, human-led storytelling
How to engage with targeted messages
A breakdown of how to implement DEI initiatives at scale
Steps to take action with DEI-built recruitment tools